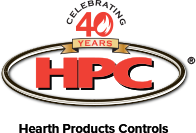 Want to give your patio or outdoor room some extra oo-la-la? Consider adding a firepit to make the space — and your evenings — extra memorable. 
Hearth & Patio offers a variety of fire pits, fire tables, and other outdoor features to make your outdoor living spa a one-of-a-kind getaway. 
Fire Tables
One of the emerging trends in outdoor dining is the fire table. With a built-in firepit in the center of the table, today's contemporary fire tables create one-of-a-kind visual impact and ambiance, while offering the functionality of a heat source for cool evenings.
Available in a variety of fire-resistant materials, including glass-fiber reinforced concrete and tile, tables typically range in size from a standard dining table height of 30" to a 42" bar table height designed for people to sit or stand around. The choice of table materials is important: keeping the surface around the fire pit cool is a must.
Telescope Casual has a complete line of fire tables that perfectly accent their outdoor furniture. 
Outdoor Fireplaces
A fireplace provides an attractive, functional addition to your outdoor living space. Monessen offers a variety wood-burning fireplaces that will enhance your space and provide comfort on a chilly evening.
We also have a variety of gas-burning outdoor fireplaces available from Regency Products. These gas-burning fireplaces offer a sleek, artistic styling to complement today's modern outdoor living spaces. Whether you are looking for a tranquil retreat or a lively background to entertain, the versatility of a Regency outdoor products create an endless number of possibilities for your outdoor oasis. Designed to amaze, built to last, the Regency outdoor fireplace collection is guaranteed to leave a lasting impression!
Whether you choose wood-burning or gas, these beautiful fireplaces are fully customizable and available in a variety of sizes and styles. Let Hearth & Patio help you find the perfect fireplace for your home. Contact us today for a free in-home estimate.
Custom Built Firepit
Let the experts at Hearth & Patio design and install a custom-built fire feature to your outdoor living space. With our custom inserts, we can create a unique feature for your outdoor living area. We will work with you to design the perfect addition to your patio.
Fire and Ice
One of the most popular trends in outdoor living combines water and fire in one feature! These beautiful, yet functional fire displays will be the talk of your next get-together. 
Contact Hearth and Patio today for a free estimate and see what Regency has to offer.